Making a donation can help improve our services immensely and most of all help the life's of the children we work with, a regular donation will help us plan our services for children and young people more effectively.
YOUTH ACTION ON EBAY
Youth Action on eBay is an easy way for buyers and sellers on eBay.co.uk to support your favourite charity Youth Action. Buyers can shop for items knowing they're supporting a good cause, be it an everyday bargain or a special auction. Sellers, whether they're individuals or businesses, can donate a percentage from any sale to Youth Action of their choice and add Gift Aid to their donations for free! Youth Action also sells items directly on eBay.co.uk. Check it out for some great offers!
EVERY CLICK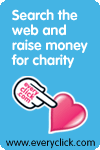 Every Click is a Search Engine powered by Everyclick's technology platform. Youth Action Every Click has been created to raise funds for the ground-breaking work we do. Why not save us as your Homepage and raise money for a good cause for Every Click you make.
SHOP FOR US
Why not donate money to Youth Action while you do your shopping online. You can shop online at all your favourite stores and in return Youth Action will receive a donation from, at no cost to you.